Pool Phosphate Remover
Tired of fighting algae to get clear water? AquaDoc's phosphate remover cuts to the root of the problem. It kills the food source for algae - stopping algae growth in its tracks & keeping your water crystal clear.
There's a reason our Phosphate Remover is a top seller
Fast-Acting Phosphate Removal: AquaDoc's cutting-edge formula is designed to efficiently eliminate phosphates, ensuring a pool perfect for friends and family to enjoy with phosphate-free pool water.
Exceptional Water Clarity: Witness unparalleled water clarity with AquaDoc Pool Phosphate Remover. Our solution not only addresses phosphates but also enhances the overall appearance of your pool water.
Ultimate Growth Control: By reducing phosphate levels, AquaDoc Pool Phosphate Remover prevents the growth of unwanted organisms, keeping your pool surface clean and visually appealing.
Long-Lasting Results: Enjoy up to 3 months of phosphate-free water with just one treatment, allowing you to focus on swimming and relaxation instead of constant pool upkeep.
Universal Compatibility: AquaDoc Pool Phosphate Remover is compatible with all pool types, making it suitable for both saltwater and chlorine pools, as well as in-ground and above-ground pools.
Pro Grade Formulas
Our products are trusted & used by professionals across the country.
Made in the USA
All AquaDoc products are proudly made in the USA.
100% Satisfaction Guarantee
If any of our products fail to live up to your standards, you get a refund.
AquaDoc relieves your headaches
Customer Reviews
10/05/2023
Brian W.

United States
1st time customers
The products were great and so was the first time buyers incentives!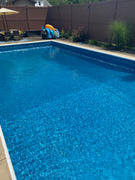 07/31/2023
Carlo B.

United States
Not thrilled
The product worked but not as good as the product I was using. Maybe we should talk about my particular conditions to see if there is an explanation.
07/06/2023
Jonathan E.

United States
Phosphate remover
It works 4000 down to 832 with 32 oz total added 16 oz x2 treatments but shipping is the pits probably 10 days